Welcome to The IRIS Network, Agent!
The comprehensive encyclopedia for Ubisoft's critically acclaimed game, Beyond Good & Evil
We are attempting to create the biggest and most informative guide to Beyond Good & Evil - And the IRIS Network needs your help!

Wiki monitored by Founder, Administrator and constant editor IRISNetwork, playing BGE since 2003.
Administrators: ZyLogic (Playing BGE since 2003), SuperBiscotCOT
---

DomZ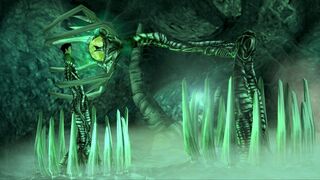 The DomZ are a parasitic, alien species that has waged war over Hillys for the past 20 years, setting their base on the moon, Selene. They attack the planet relentlessly, usually with violent meteor showers. Very skeletal in appearance, the DomZ come in various shapes and sizes, and thrive off the energy of other living beings. When they first attack Hillys, the Alpha Sections take charge, although their tactics prove ineffective at defending the land. more...
---
218 articles created on the wiki
436 files uploaded to the wiki
3,888 contributions made towards the wiki

---
December 07, 2017 - First Space Monkey Program Live Stream!
June 12, 2017 - Beyond Good and Evil 2 officially revealed at E3 2017
October 6, 2016 - Ubisoft officially announce development on "the next Beyond Good and Evil game" following revealed concept art on Michel Ancel's Instagram account.
August 1, 2014 - Michel Ancel starts Wild Sheep Studios, will remain at Ubisoft Montpellier to heed creative development of a 'proverbial sequel' to Beyond Good & Evil.
February 11, 2014 - Beyond Good & Evil 2 is a journey through a world with strong consequences
November 14, 2013 - Beyond Good & Evil's 10th Anniversary!
July 17, 2013 - Michel Ancel outlines his vision for Beyond Good & Evil 2

---
December 1, 2013 - The IRIS Network and BG&E Myth have affiliated, and become partners in crime!
November 14, 2013 - The IRIS Network celebrates the 10th anniversary of Beyond Good & Evil.
September 18, 2013 - The IRIS Network partners up with the Revolutionaries of the Rayman World, Rayman Pirate-Community.
September 11, 2013 - The IRIS Network remembers 9/11.
June 30, 2013 - The Beyond Good & Evil wiki has started branching out, making friends, and gaining Affiliates.
October 30, 2012 - The Beyond Good & Evil wiki made it on wikia.com homepage.
---
Create blog post
https://www.twitch.tv/ubisoft

https://twitter.com/bgegame/status/938454243060670465

"The first SMP Report live stream! Find out what the Space Monkeys and dev team have been up to..."

Hype.

December 7th,…

Read more >

Hello everyone!

Just wanted to post a quick announcment that we have a new agent joining our ranks, SuperBiscotCOT, who is the moderator of the french Beyond Good and Evil forums, has been made admin! …

Read more >
See more >


Ad blocker interference detected!
Wikia is a free-to-use site that makes money from advertising. We have a modified experience for viewers using ad blockers

Wikia is not accessible if you've made further modifications. Remove the custom ad blocker rule(s) and the page will load as expected.