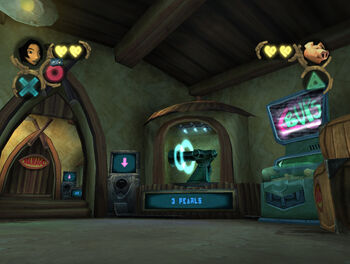 In earlier stages, the Neutralizing Cannon had a vastly different appearance. The concept was a cannon that designed as a blunderbus or trumpet. The main difference is the mounting that rests the cannon, and the blue disks that revolt around the barrel.
Another peculiar aspect, is that the cannon can be bought by debetting 3
pearls
, whilst the version used in the final version of
Beyond Good & Evil
, is priced at 5 pearls.
Ad blocker interference detected!
Wikia is a free-to-use site that makes money from advertising. We have a modified experience for viewers using ad blockers

Wikia is not accessible if you've made further modifications. Remove the custom ad blocker rule(s) and the page will load as expected.