Ad blocker interference detected!
Wikia is a free-to-use site that makes money from advertising. We have a modified experience for viewers using ad blockers

Wikia is not accessible if you've made further modifications. Remove the custom ad blocker rule(s) and the page will load as expected.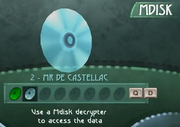 An
Mdisk
is an optical disk in
Beyond Good and Evil
. They directly resemble CDs or DVDs, while carrying much of the same function. When played using an
Mdisk Decoder
, they have the ability to play messages from other characters or organizations in the game, storing digital issues of
IRIS
 and in one case, CCTV footage. Jade begins with a Game Save Disc that allows players to save their game once they reach an Mdisk Decoder, similar to the checkpoint system found in many other Videogames.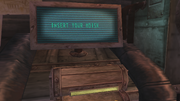 List of Mdisks
Edit
Game Save Disc - Used to save your game
Mr. De Castellac - Mission disc (received before going to Black Isle)
The Pearl and the Currents - Information disc (given to you by IRIS)
For Jade - Received from Pey'j at the Nutripils Factory
Surveillance Camera - Contains security footage of the Nutripils Factory, found in a Mdisk holder near the closet that holds Pey'j Jet-Boots.
Hillyan Army Databank - Documents the equipment used by both the Hillyan Army and the Alpha Sections, found in the Nutripils Factory in a room opposite the closet that holds Pey'j's Jet-Boots
Beluga Check-Up - Found on the desk near the Beluga
Animal Species - A photo album of all the species on Hillys (received when you complete the Science Center's photo inventory)
IRIS 511 - Early IRIS report (collected in Ming-Tzu's backroom)
IRIS 512 - Early IRIS report (collected in Ming-Tzu's backroom)
IRIS 513 - Finished IRIS report on the Nutripils factory (collected in Ming-Tzu's backroom)
IRIS 514 - Finished IRIS report on the Slaughterhouse (collected in Ming-Tzu's backroom)
Mdisk 13 (Disc Game) - A mini-game accessed in the Akuda Bar, by using a code gained from entering your Internet Code into The Darkroom and completing a challenge.
Pearl Game - A mini-game (rewarded by Mammago for collecting all the Pearls in the game)