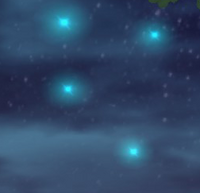 Scientific Name: Lampyris campestris (Common glowworm);
Locations: Outside the Lighthouse near the tree, Black Isle;
Worth: 300 units;
SC Comment: "Lucioles... Wonderful..."
Description
Edit
The Lampyris campestris is what is commonly referred to as a firefly. These insects always move in a group and can only be found at night or in dark places. A colony of them can be photographed outside the Lighthouse. They can also be found in the mine shaft on Black Isle hanging around the ceiling of the cave.
Because the firefly is so small, it is impossible to see its body. It appears as a blue ball of glowing light and moves rather slowly. Jade can walk through a group's formation without startling them.
Ad blocker interference detected!
Wikia is a free-to-use site that makes money from advertising. We have a modified experience for viewers using ad blockers

Wikia is not accessible if you've made further modifications. Remove the custom ad blocker rule(s) and the page will load as expected.