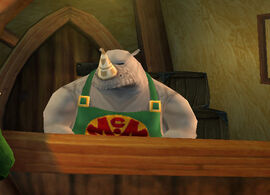 Issam
Desk Clerk of the Mammago Garage
Issam, is one of the three Rhino brothers that run Mammago Garage on Hillys. He works as the desk clerk. He speaks with a Jamaican accent.
Dressed with green overalls, he likes to drum the counter when he speaks with Jade.
"But don't forget: Our Mamma only accepts pearls."
Ad blocker interference detected!
Wikia is a free-to-use site that makes money from advertising. We have a modified experience for viewers using ad blockers

Wikia is not accessible if you've made further modifications. Remove the custom ad blocker rule(s) and the page will load as expected.