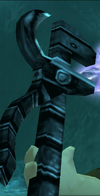 The
Barranco D53
is an all-in-one heavy
machinery
tool. It is a combination of hammer, locking pliers, bolt cutter, and monkey wrench. It has numerous other small tools and functions, including a red diode laser level. The entire unit is rather large, around 2.5 to 3 feet in length.
Pey'j
acquired one while he and
Jade
were exploring
Black Isle
, and uses it as both weapon and tool.
As seen in the teaser trailer of Beyond Good & Evil 2, Pey'j still owns the Barranco, having used it to try and fix the hovercar he and Jade were driving through the desert.
Ad blocker interference detected!
Wikia is a free-to-use site that makes money from advertising. We have a modified experience for viewers using ad blockers

Wikia is not accessible if you've made further modifications. Remove the custom ad blocker rule(s) and the page will load as expected.