Home
Talk

0
170pages on
this wiki
Welcome to

The IRIS Network

, Agent!

The comprehensive encyclopedia for Ubisoft's critically acclaimed game, Beyond Good & Evil
We are attempting to create the biggest and most informative guide to Beyond Good & Evil - And the IRIS Network needs your help!
Wiki monitored by Founder, Administrator and constant editor IRISNetwork, playing BGE since 2003.
Administrators: ZyLogic (Playing BGE since 2003)
---

High Priest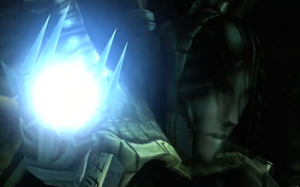 Otherwise known as "DomZ Priest" is an ancient entity that resides within "The Great Crypt". The Priest represents the monarch ascendancy of the DomZ ; It embodies the collective consciousness and memories of the DomZ. The High Priest of the DomZ feeds on only the miserable of sacrifices, thus being able to survive without its original source of energy. The High Priest of the DomZ serves as the architect and overseer of the DomZ and their cycle of power and destruction.(Spoilers Inside) more...
INCOMING TRANSMISSION FROM IRIS.
TRANSMISSION DECODED.
If you are reading this you have been identified as an IRIS agent and have been given access to the Database. The IRIS Database contains every piece of information about Hillys, its inhabitants, its history and the universe that surrounds it. At the moment the Databases are incomplete and that's where you come in. The Governor of Hillys has requested that every IRIS agent should do their best to submit new information and images to the Database to aid agents in their mission of bringing harmony back to Hillys. Your correspondent and mission chief will be a high ranking rebel within IRIS, broadcasting using the temporary ID 'IRISNetwork', with the help of IRIS Administrator ZyLogic, their personal mission is to keep the databases from falling into chaos. The only weapon powerful enough to strike back at our sworn enemies the Alpha Sections, and most importantly, the DomZ, is the truth. So get filing.
Yours Personally.
Wild Boar.
---
170 articles created on the wiki
188 files uploaded to the wiki

---

---
October 30, 2012 - The Beyond Good & Evil wiki made it on wikia.com homepage.
August 8, 2012 - Congratulations to our new Admin, ZyLogic

---
Create blog post
So it seems like Ubisoft at last unveiled their emotions and thoughts on the next-generation of consoles -- t…

Read more >

Earlier this month, reports suggested by various sources stated that the development for Beyond Good & Evil 2…

Read more >

Today, on the site Nintendo Enthusiast, it was said that a game, with the description of being 'the sequel to…

Read more >
See more >